• Universal 3-in-1 device: Daylight Spotting
Scope + Night Vision Spotting Scope
+ Digital Photo/Video Camera •

• NEW: HD AMOLED widescreen micro-display – the brightest display in the industry! •

• NEW: Multi-Controller for quick and
user-friendly menu browsing! •

• NEW: 12.2MP still images and full-HD
(1080p) video recording! •

• Full-Color, Night Vision Green and B&W image options! •

• Wi-Fi capability •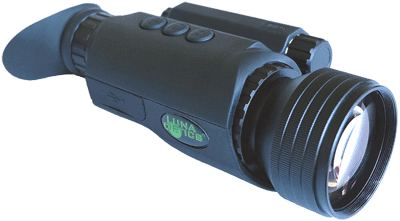 Luna Optics is proud to present our new Flagship HD Monocular as the latest in digital night vision technology! Unit features highest resolution widescreen AMOLED display with brilliant and vivid viewing experience! On-board Full-HD Video recording, 12.2MP still images and transition between Full-Color, Night Vision Green and Black & White screens make this monocular a perfect companion during daylight and in the darkest of nights!

LN-G3-M allows you to have three devices in one compact package: daylight spotting scope + night vision spotting scope + digital camera!

Precision all-glass optics with 6x optical image magnification combined with a unique electronic image zoom system provide variable magnification up to 36x without noticeable pixilation and a powerful projector-style IR illuminator offers viewing distance up to 200yds in total darkness! Take 12.2MP still pictures and record 1080p Full-HD video onto Micro SD card (8GB card is included – upgradeable up to 128GB). Micro-HDMI connection allows direct viewing experience on any HDTV or monitor.

Industry-first Multi-Controller allows for quick and user-friendly menu selection in the field. Water-resistant body allows use in inclement weather conditions and advance features like intelligent picture optimization and manual brightness control provide for the best viewing in any ambient light conditions. Built-in Micro-USB connector allows for use of commonly available power bank batteries extending the operating time up to 36hrs depending on the power bank battery capacity. Tripod adapter allows for secure mounting to a standard ¼" tripod connector for long-term and steady observation.

Two additional tripod-size adapters allow connecting an external IR illuminator (models LN-EIR-2 or LN-ELIR-2) while the monocular is mounted onto a tripod. Unit comes with Carry Case, Daylight Color Enhancing Filter, Micro-SD card and USB cable.


TECHNICAL SPECIFICATIONS:
• Sensor Type / Resolution / Sensitivity: Full-HD CMOS / 1920x1080 / 0.005lux •

• Image Display: 0.38" HD micro-AMOLED 1280x720 •

• Still Image Resolution: 4032x3024 (12.2MP) •

• Video Resolution: 1080p(60fps);720p(60fps/30fps);WVGA(60fps) •

• Signal Output: PAL / NTSC •

• Image Magnification: 6x-36x •

• Focusing Distance: 80cm (2.6ft) - ∞ •

• Viewing Distance (Clear Skies, Full Moon): 600m (656yds) •

• Viewing Distance (1/4 Moon): 400m (437yds) •

• Viewing Distance (Total Darkness): 200m (219yds) •

• IR Illuminator: LED, 805nm (100mW / 3 power levels) •

• Field Of View: 9° •

• Memory: Micro SD card, up to 128GB (FAT32 format) •

• External Wi-Fi: Android/iOS •

• Power: 2 x 3V Lithium (CR123A or rechargeable) •

• Operating Time: 3.5hrs •

• Operating Temperature: -10+50C (14-122F) •

• External Power: Micro-USB, 5V/2A •

• Dimensions: 180mm x 80mm x 60mm (6.7"x3.1"x2.3") •

• Weight: 510g (1.1lb)hs •