MEDIA REVIEWS
CLICK HERE FOR CUSTOMER REVIEWS
www.wired.com -
Luna Optics LN-PB3

(Night Vision Binocular)
Reviewed by Mathew Honan • March 16, 2010
Rugged Night-Vision Specs See Through the Muddiest Dark
These rugged aluminum peepers from Belarus were our favorites in adverse conditions. Like Ali in Zaire, they took a beating and still performed like champs, enduring both rough handling and rainy weather equally well.
Beneath the warrior's exterior, however, is an artist's vision. They rely on a combination of infrared illumination and first generation night vision technology — which works by gathering ambient light into a photocathode light intensifier tube where the photons are converted into electrons. Electrons are then amplified and projected on a phosphorous screen that turns them back into visible light. It effectively amplifies the available light several thousand times, giving you a green-hued window into the night. If you need even more power, flip on the IR lamp, which acts like an invisible flashlight in the night (although it does produce a red light that's visible from the front side in the pitch black dark).
The bottom line was unmatched light-magnifying power — we saw clearly outdoors, even on moonless midwinter nights. And the IR lamp revealed every detail of our pitch-black basement. They were impressively versatile, too: The 3X magnification snagged far-away scenes yet handled close-ups like Cecil B. DeMille. We also really dug the adjustable rubber eye cups, which rotated to fit a variety of faces and keep everyone comfortable.
Complete Product Details for the LN-PB3M (newer model) can be accessed by clicking here.
For a printable copy of this review, please click here.
www.usaweekend.com -
Luna Optics LN-PB3

(Night Vision Binocular)
Reviewed by Brian Truitt • June 6, 2010
Great gift ideas for DADS and GRADS
From hot-selling iPads to cool headphones, here are the latest tech items they both want. Nobody needs an iPad, but there's no cooler device out there.
OK, so it's not the most functional gift. But who wouldn't want to play with technology that until recently was available only to the military? They look neat, they're sturdy and they're ready for your weekend warrior. The best part? "Seeing in the dark!" Tweney says.
Complete Product Details for the LN-PB3M (newer model) can be accessed by clicking here.
For a printable copy of this review, please click here.
The Chronicle Herald -
Luna Optics LN-PB5

(Night Vision Binocular)
Reviewed by Christian LaForce • July 10, 2010
Handy Binoculars Ideal for a Little Homeland Security
In spite of my undeniable effort to lead a quiet, problem-free suburban life away from the hassles of a huge metropolis like peninsular Halifax. Trouble ignores the No Solicitors sign posted near my driveway...and steals my garbage can. Incidents of this nature can balloon into big-time bitterness in the burbs and requires a swift reaction.
My can's disappearance curiousity coincided with the delivery of a sample set of solid LN-PB5 night-vision binoculars (about $800) from Vladimir at Luna Optics. If your stuff goes missing, having a low-light optics distributor named Vladimir as a contact is unsurprisingly handy.
At almost a kilogram its made-in-Belarus matte-black aluminum body feels solid enough to double as a blunt weapon. Luna Optics also claims the device is weather resistant, which seems feasible, considering its rugged construction.
The LN-PB5 uses Cold War-era, generation-one technology. Available light enters through the objective lens and is collected by a photocathode tube, where photons are charged into electrons. Amplified by a photomultiplier, the electrons are turned into visible light on a phosphor screen, producing a green-coloured image familiar to Call of Duty, Modern Warfare 2 gamesworldwide. Why green? Because the human eye is sensitive to green and it's easier to look at for extended periods of time than, say, a black-and-white image.
This process amplifies ambient light thousands of times. Should ambient light prove too low to produce a satisfactory image, the binoculars are equipped with an adjustable infrared light that really lights up the scenery through the binoculars, albeit only at a short distance.
One of the suggested uses on the box is homeland security, so I tested the device where my home borders a new development. My garbage can was nowhere to be found, but the LN-PB5 worked better than expected - much better. Its image was crisp and clear. Abundant landscape detail could be seen under an overcast summer sky with little artificial illumination present.
I was thoroughly entertained by a racoon making the rounds of the area, presumably in search of discarded edibles left by workers. Luna Optics claims 325-metre maximum viewing distance, which I think is more or less accurate. Details are, of course, not as easy to see at distance and I struggled to differentiate piles of building materials from pallets of sod at distance, even with the LN-PB5's five-times magnifications.
I also found time to do some star gazing a few nights after my first foray. Everything is better than night vision.
Control layout is as simple as it gets: one button controls power, one controls the infrared function, and a low-intensity LED indicates operation. Both oculars and objective lenses are adjustable to allow for a fully customizable view using a smooth rotating action. The tethered lens covers, however, are chunky and annoying - think plastic wind chimes hanging from the front.
I also noticed some excess adhesive on the body and eye cups. It's unfortunate because it takes something away from the device's overall aesthetics, but its preferable to moisture entering the device.
One last thing: if ever you doubted there's evil in cats, try looking at one through these binoculars with the infrared beam attached.
Complete Product Details for the LN-PB5M (newer model) can be accessed by clicking here.
For a printable copy of this review, please click here.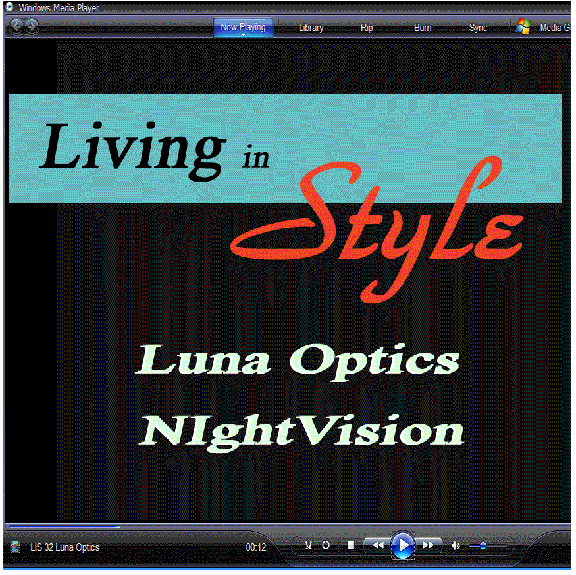 Living in Style NightVision Products Review
Click to see video